For 42 Tournament Players
NOTICE: This document will be archived and no longer maintained after 31 Dec 2016.
(Other pertinent documents linked herein will no longer be updated.) - PP
---
Survey 1: OPEN NATIONAL 42 CHAMPIONSHIP TOURNAMENT LOCATION POLL: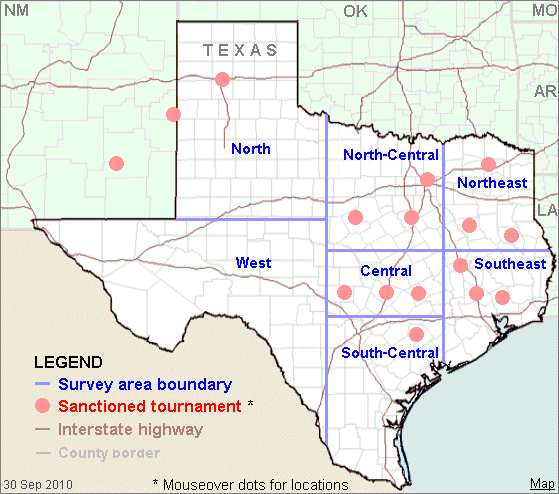 If an open national 42 championship tournament were to become a reality, which Texas area above would be the ideal location to host it? Survey 1 Notes:
1. Mouseover red spots on map to see names of cities with sanctioned tournaments (2010).
2. The complete listing of sanctioned 42 tournaments is posted at the N42PA web site.
3. The map zones consider centrality of tournaments, travel, lodging, and other logistics.
4. The N42PA hosts an annual National Tournament of Champions for its qualified members.
5. Click here for more info if interested in an open national 42 championship tournament.
6. Previous discontinued location polling results are shown here.
---
Survey 2: 42 TOURNAMENT PLAYERS MOTIVATION POLL:
Aside from love of game, competition, fun, and fellowship, what is the main secondary reason that you play in 42 tournaments?