42 Polling Summary, U.S. Majority Respondents
(Polling between 19 October 2004 and 30 November 2006. Newer polls at bottom of page.)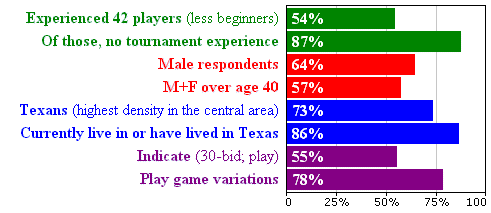 Note: Most survey respondents learned the game of 42 from parents or other relatives (archived results).



Age/Gender of Respondents (Grand total=1011)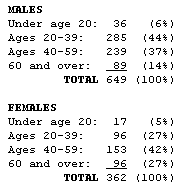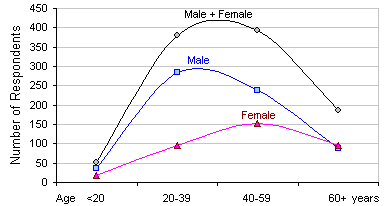 Polling Areas



Populations based on
2004 census estimates




↓





Visitor Map Player Map
Densities of Respondents in Texas Polling Areas ↑ C li c k c h a r t t o t o g g l e
Player Status, Game Variations, and Indicating Styles
↓ L A T E R P O L L S B E G I N H E R E ↓

Poll started 23 January 2008; discontinued 22 May 2012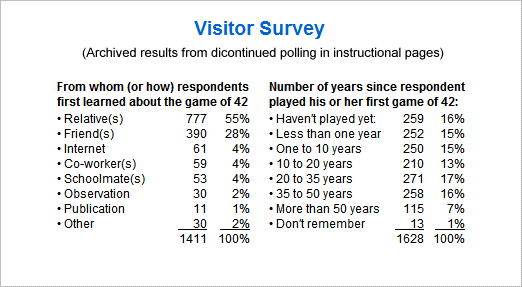 "Other" example: Learned about 42 from the wife of a landlord who complained
that her husband "played too much 42" and didn't always get his chores done.



42 Playing Status of Survey Respondents
(8 Mar 2010 to 24 Jan 2011)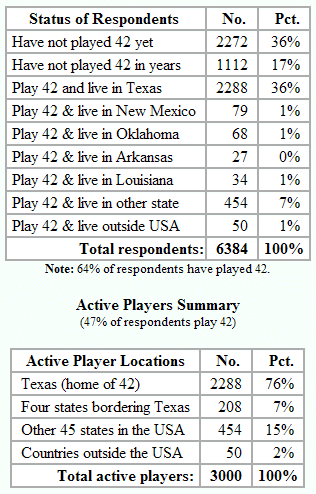 Poll started 16 April 2008; discontinued 22 May 2012



Fair Play Polling Form (archived)



Tournament Player Survey (Random Partners)
Random Partner Survey Form (active)
42 Player Survey (32-34 Helping Hand Bids)
Survey Form (active)
Tournament Player Survey (National Championship Location)
National Tournament Survey Form (active, with full map)
Tournament Player Survey (Reasons for Participating in Tournaments)
Tournament Motivation Survey Form (active)
Ongoing Texas42.net Visitor Survey Results (Active)
Visitor Voting Form (active)


Bidding/Trumps Survey (active) ? 42 Home Page