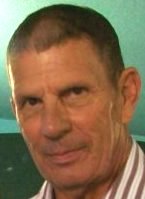 Webmaster's note:
James Cannon (right), an aerospace engineer and alumnus of the University of Texas, was chief of C-5 aircraft production engineering and planning at Kelly AFB in the 1980s. At that time, he and two other co-workers taught me how to play 42 during lunch breaks. He later became the USAF trainer aircraft System Program Director's mechanical engineering branch chief. He was also a member of the aircraft mishap/crash investigation team at Randolph AFB prior to his retirement.
Related Aircraft Images: C-5 (front) C-5 (side) T-37 T-38
Jim was my 42 advisor early on in the development of Texas42.net. His broad experience in the game was quite helpful. I asked him to share some of his 42 background and experiences with other 42 players. He most graciously agreed. Here it is. Enjoy. - PP
---

Commentary By James (Jim) Cannon
I really do not remember when I first played 42 or learned the game. I began playing count dominoes and 42 with family and at a small country store about one to two miles from where we lived. The nearest town was ten miles away and had a population of approximately 1000. We certainly lived in the country.

I think I learned some of my very early math from dominoes and 42. I canít remember not knowing how to play. Playing with my family and at the store were some of the first memories of my life. I only got to play at first when people would humor me and knew they would lose if they got me as a partner. Thank goodness there were some patient people there.

My first seven and a half years of schooling were in a small rural community school, with grades 1 to 3 in one room, 4 to 6 in another, and 7 and 8 in another. My mom taught grades 1-3 in the little school, and I was one of her students. Another teacher had grades 4 to 6, and the principal had grades 7 and 8. Three teachers, and if a class had 10 students, it was big. After the small school closed, there would be community gatherings at the old school building on Saturday nights and I would go there and play 42.

Later I graduated to playing in the town where the students and teachers were sent after the rural school closed. The town's local Dairy Spot (not Dairy Queen) had a table in back and I would play every afternoon when school was out. I was waiting for my mom to get through with her teaching and would ride home with her. One particular boy and I were better than everyone else that came to the Dairy Spot.

After that, I played off and on at different places until I got to Kelly AFB and, as I soon found out, 42 was popular there, too. Some of the best games I ever played were at Kelly. I played 42 with many of my friends and co-workers, some of whom took the game very seriously and didn't always appreciate my occasional shenanigans. The 42 game during lunch break was a highlight of my day at Kelly and, before it was over, we would have a pretty good audience watching. I enjoyed the games at Kelly very much.

My playing philosophy is you should bid the most you think your hand can make, not less, because if you get the bid you have an advantage. The better the partner you have, the more you can push the bid up. If you have a really good partner, you can sometime overbid your hand. Remember, there are two people on a team. If you have a real good partner, he/she can help you.

Some questionable bidding and playing practices I've seen were having a set of bidding signals - like skipping two points over the last bid or opening with a certain bid if a person had a predetermined domino - maybe 5-5 or 6-4. I also have seen people push dominoes out with the end first that they had the double to. For example, if they played 2-5 and pushed out the 2 end first, they had 2-2. This was easy to catch.

I have seen lots of players make signals that were very obvious to everyone at a table, partner and opponents alike, such as playing 6-6 telling everyone you had 6-5. Or, playing 3-3 when you had 6-3. That would be telling your partner to lead a 6 or 3. I do not consider this type of signal to be questionable or cheating, just good playing. It would tell everyone your hand and you had to be somewhat careful because, if your partner went to you, you needed a lead or two for the partner, depending on the circumstances.
Jim Cannon
October 2013
~ ~ ~